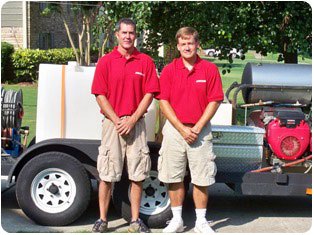 Exterior Cleaning Services
Superior Cleaning Service – Window Cleaning & Pressure Washing Birmingham, Alabama
Are you looking for quality window cleaning, gutter cleaning, power washing, or deck cleaning and staining services in the Birmingham, Alabama area?
With over 15 years experience in the business, our courteous professionals will do the job right the first time! We're here to help with all your residential or commercial exterior cleaning services.
When it comes to your deck, gutters, windows, and siding, we believe you should never have to settle for less. Your home is a major investment and we treat it as such. With carefully trained and experienced professionals from Superior Cleaning Services, you can keep your home looking and feeling new at a reasonable price and with excellent customer service.
Wondering how we do it? Our pressure washing and window washing skills combined with our expertise and special cleansers allow us to more effectively remove any and all buildup that the outside of your home is fighting against.
Buildup and residue can lead to rot, mold, and mildew on the outside of your home. Don't let dirt rule the roost and run you out of your home. With a little help from Superior Cleaning, you can say goodbye to dirt and hello to a clean home that will be the envy of the neighborhood.
Are you prepared to make the outside of your home something you can be proud of again? Give Superior Cleaning Services a call today. We're the fast, dependable and affordable service you can rely upon.
At Superior Cleaning Services, we pride ourselves on fast free estimates, courteous service, and professional work. With many years of service and a base of operations in Birmingham and the surrounding area, we know what our customers expect. We enjoy building relationships with our customers, and we know you want someone dependable that you can trust. Thanks for considering us, and we look forward to working with you!
OUR SERVICES
Are you settling for less when it comes to the care and keeping of your home? Don't settle anymore! Call Superior Cleaning Services for a truly superior, affordable, reliable and incredible experience TODAY!
The Best Pressure Washing Service in Birmingham Alabama
If the concrete, driveway, brick sidewalks, stone pavers, wood decks, windows, gutters or other exterior surfaces around your home or business are starting to look dirty, discolored or dingy, they are in need of a deep, powerful, professional clean. You'll need more than just elbow grease and a hose, so you'll want to give the professionals at Get Superior Cleaning Services a call for a pressure washing job done the right way. Our powerful pressure washers combined with top-of-the-line cleansers, the best techniques and more than 15 years of experience will help your home or business look its absolute best. When you trust our company with your residential or commercial power washing needs in Birmingham, AL, you can be assured that the job will be done professionally, safely, timely and most importantly, the results will speak for themselves. But don't take our word for it- read our testimonials and Google reviews to hear what your neighbors and friends are saying. 
When it comes to your wood siding, shingles, decks and fences, a gentle, but powerful clean is what we recommend. Harsh pressure and powerful cleansers can damage the wood. We use a two-step wood restoration process that is environmentally safe and removes water damage, insects, mold and other pollutants without causing damage to the wood surface. After a good and thorough cleansing, we then seal the wood to not only make your decks and fences look nice, but lengthen their lifetime. 
If it's the concrete, brick, stone or other hard surface at your home or business that needs some attention, our powerful pressure washing and cleaning systems use both hot and cold water, light and hard pressure to safely and effectively remove layers of dirt, grime, mold and other pollutants. Our company has spent more than 15 years perfecting our systems to ensure your home or business is as clean as possible without harming existing surfaces. 
If it's the windows or gutters and downspouts at your home or business that are in need of attention, our professional team at Get Superior Cleaning can make them sparkling clean again. Blockages in your gutters aren't just unsightly, they can cause severe backup and create extensive water damage to your roof and siding. When it comes to windows, streaks are unsightly and can decrease the amount of natural light in your home. Our professional services mean we have the equipment and experience to reach even the highest windows and skylights to ensure a sparkling clean. We use only the best environmentally safe cleansers, with the safety of your family, pets and plants in mind. 
The before and after photos on our website truly speak for themselves. Don't put off your power washing needs until the next season. Mold, rot, moisture and dirt can build up over time and can cause extensive damage below the surface of your deck, siding and other exterior fixtures. Contact us today for a free estimate! We look forward to servicing your home or business in the Birmingham, AL area.