Avoid costly repairs to your home. Have your gutters cleaned!
Don't give your gutters a chance to destroy the foundation of your home. Give us a call today!
RELIABLE GUTTER CLEANING SERVICES
Ready for a Superior Gutter and Downspout Cleaning?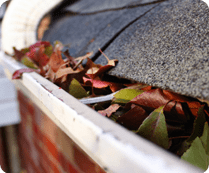 Clogged gutters and downspouts are often the primary cause of unsightly streaks and stains on most houses, and can lead to many other problems as well. While we would love to pressure wash the exterior of your home when needed, one of the best ways to prolong its beauty and prevent unnecessary cost is with regular gutter cleaning. Having your gutters and gutter guards cleaned on a regular basis can save a lot of money in the long run. With many years as an experienced company providing gutter cleaning in Birmingham, AL, Superior Cleaning Service will produce the results you expect from the very start. Our quality approach to gutter cleaning will provide you with the assurance of a professional job every time. We're committed to outstanding customer service and a job well done.

Cleaning Process
Our cleaning process includes a complete and thorough inspection of all gutters and downspouts. We clean the roof of any loose debris, clean the gutters, and make sure the downspouts are clear and free-flowing. We provide a detailed report of any problems we see during the process as well. And after the cleaning, we clean up all the debris that gets on the ground and use a blower to clean all surrounding areas.
Key Benefits of the Service
Maintain properly working, clean gutters all year round
Prevent rot, foundation erosion, and potential water damage
Superior Cleaners Clean "no-mess service" bags and remove debris for you
Have small repairs made to your gutters on-site, the same day as cleaning