Let's face it. Most people neglect their gutter systems until they stopped working properly. But the truth is, gutters serve an important service on your home and they requires proper maintenance just like the rest of your whole house. Proper gutter maintenance keeps water flowing through your gutters so they can serve you well and not cause headaches.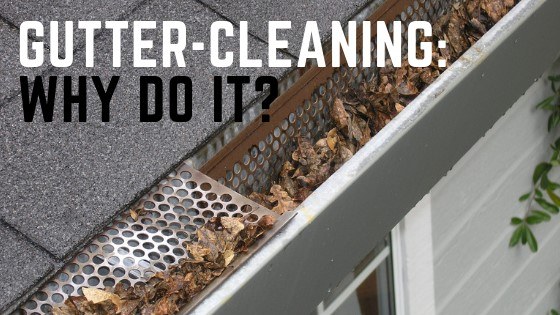 Maintaining your gutters regularly can go a long way in preserving the value of your investment you made when you bought your house.
Keep in mind that a well-maintained gutter system has a lot do to with the overall condition of your roof, walls, foundation, and landscape. Still not convinced that having your gutters cleaned is a must? Then keep reading.
Safety First!
If you choose to do the work yourself though, be sure to follow proper ladder safety procedures. If your windows are too high up, don't take the risk and call a professional for help. Many companies like us have lifts and other equipment to make these jobs safer. For a comprehensive guide on ladder safety and gutter cleaning, check out this article by the Nashville MLS on the topic.
Neglected gutters can cause:
Leaking basements and cracked foundations.
When your gutters are clogged with dirt like leaves or debris, it can cause water to overflow and accumulate around your home's foundation. If this happens, your basement is at risk of leaking and excess water against the foundation can cause the footings to weaken and lead to unsightly cracks.
Rotting wood.
Debris that are piled up above the flashing of your gutter system can hold moisture on the fascia board and can affect the sheathing and framing beyond it. The clogged debris in the gutters will most likely act as a wick and can bring standing water at the bottom of the gutter to the fascia. Should this happen, you might have to replace the wood. Where in fact it could be very well avoided by simply cleaning the gutters regularly.
Animals and wood-destroying insects.
Not cleaning your gutters regularly can result in water pooling into areas blocked by debris. It's known that standing water can be a breeding ground for mosquitoes, plants, birds, insects, and even mice. So if you don't want to have a few creepy-crawly friends taking a swim above your head, you better get that regular cleaning work done.
Conclusion
If these reasons are not enough to convince you that keeping your gutter system free from debris and dirt is necessary, I'm not sure what will. Gutters protect your roof and siding against standing water and may prevent costly maintenance and repairs down the road. A well-maintained gutter system is designed to catch and divert water away from your home so that roof runoff doesn't have a chance to damage your siding or foundation.
But if you did realize that you need to keep your gutters clean, then you might be asking how often you need the cleaning done, right? Well, it really depends on where you live and how many trees are in your yard.
But we recommend maintaining your gutters in the spring and fall. However, if you have leaf guards it can significantly decrease the need for gutter cleaning.
Don't have time to clean your gutters by yourselves? Let us do it for you! Hiring professional cleaners like us, Get Superior Cleaning, will ensure your roof, gutters, and downspouts are totally free from debris and all sorts of dirt. Plus, we can take care of any loose gutter spikes!